Homepage
Our expertise
Our commitment to the environment
Our commitment to the environment
Global warming and the increasing pollution of our environment are issues that can no longer be ignored today. This is why we are thinking about the real changes we can make at our level, both in terms of how society itself functions and the life cycle of the products we manufacture.
Some actions have already been implemented at Ezi several years ago, such as sharpening to extend the useful life of products and recycling carbide to give them a second life. The blister recycling bin is a recent initiative, implemented with our customers to reduce the environmental impact of our packaging.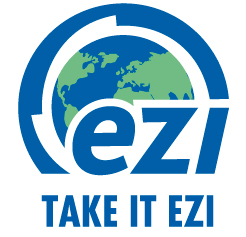 Our internal initiatives
The manufacture of our tools necessarily involves a certain amount of waste, such as grinding sludge or sintered parts. For years now, we have been operating the complete recycling of these wastes.

We have implemented a cooling system with micro-filtration of the cutting oils, which gives them a longer service life, thus avoiding wasting consumables.

Lighting the premises is a very energy-intensive job, mainly since our workshops are located in the company's historic, spacious building. This is why we have opted for LED lighting in both the production and administrative offices.

Our historic building has large volumes, which would be difficult to cool down traditionally without excellent energy expenditure. To ensure that everyone can work in the right conditions and that the equipment is preserved, we chose to install an adiabatic cooling system. This bioclimatic technique uses very little energy without any refrigerants.
Our Low-Tech, in interaction with our customers
Tool recycling: we also recover used tools (monobloc, inserts, etc.) from our customers and send them to a service provider who recycles all the components, i.e., tungsten grains, cobalt and nickel binders, etc. These powders will then be reused with the same level of quality as the original raw materials.

Resharpening service: offered at Ezi for several years, this service allows customers to have their cutting tools resharpened as many times as necessary, thus giving them a much longer service life, as well as always optimal efficiency.

The "Back To Ezi" system: thanks to reusable bins, we recover our customers' used blister packs and recondition them, in collaboration with the public integration institution in Geneva. The blisters can thus be reused several times, instead of being simply thrown away as before.
Request your box